Context
Energy Intensive industries:
Energy Intensive Industries have to contribute to the European Action plan on energy efficiency by saving 20% of primary energy.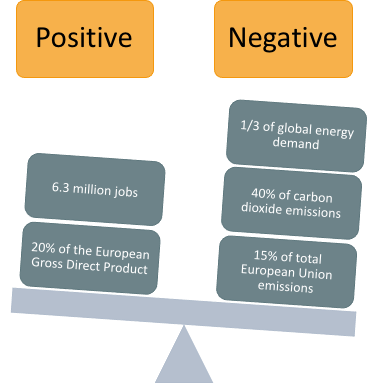 ACHIEF contributions:
ACHIEF will help in the implementation of the future Energy Intensive Industrial sector: more efficient and sustainable than the actual one.
How will ACHIEF work?
From theoretical parameters and requirements, a novel Integrated Artificial Intelligence aided Materials Toolbox will propose innovative and adapted high performance materials and protective coatings.
First, the virtually designed materials will be developed at small scale in laboratories. The specific partners will find optimum process parameters and will do a selection of the most efficient solutions among those proposed by the artificial intelligence.
Within ACHIEF we have the ambition to produce four types new materials:

WPDC coatings with improved high temperature corrosion and erosion resistance.

Advanced Cr-steels grade with 15% improved creep resistance and higher temperature corrosion resistance.

Innovative high temperature and creep resistance materials based on HESAs models
High performance coatings based on HEA-nanocomposites.
Objectives
Then after lab testing, the developed materials will be implemented in industrial environments to demonstrate their performance and efficiency.
Three uses cases
1) CONSTELLIUM – Voreppe France
Constellium will focus on validating novel PDC coatings with high-temperature degradation resistance to:
the aluminum chemical attack of trough refractories,
abrasive wear due to friction of slag and impurities contained in the molten metal and the refractories inside the casting line,
Oxidation due to oxygen at high temperatures in contact with rotors immersed along the casting line.
Constellium will also focus on testing the capability and robustness of HESA nanocomposite coatings under the mechanical, physico-chemical and thermal conditions of aluminum rolling process.
2) ARCELOR MITTAL SESTAO – Sestao Spain
ArcelorMittal Sestao will focus on the validation of HESAs in High Temperatures applications where high temperature strength and creep characteristics will be needed to be sustained by materials components and equipment. ARCELOR will test novel HESA compositions in insert (« star ») component prototype fabricated by means of additive manufacturing technologies and integrated into a water-cooled roll shaft prototype inside the tunnel furnace.
3) TUPRAS – Turkey
Tüpras will focus on the application of high-performance PDC coatings on carbon steel pipelines and equipment (pumps) that are exposed under temperatures below 200°C.
The petroleum refinery (TUPRAS) will set up the conditions in terms of high temperature and corrosion to various failure mechanisms, being corrosion fatigue and high temperature creep the most important. Boiler tube failures are a major cause of forced outages in the power production industry conditions (steam), Tubos Reunidos from Spain will develop new Cr-Steels boiler tubes with improved creep resistances by collaboration with TUPRAS.
Impact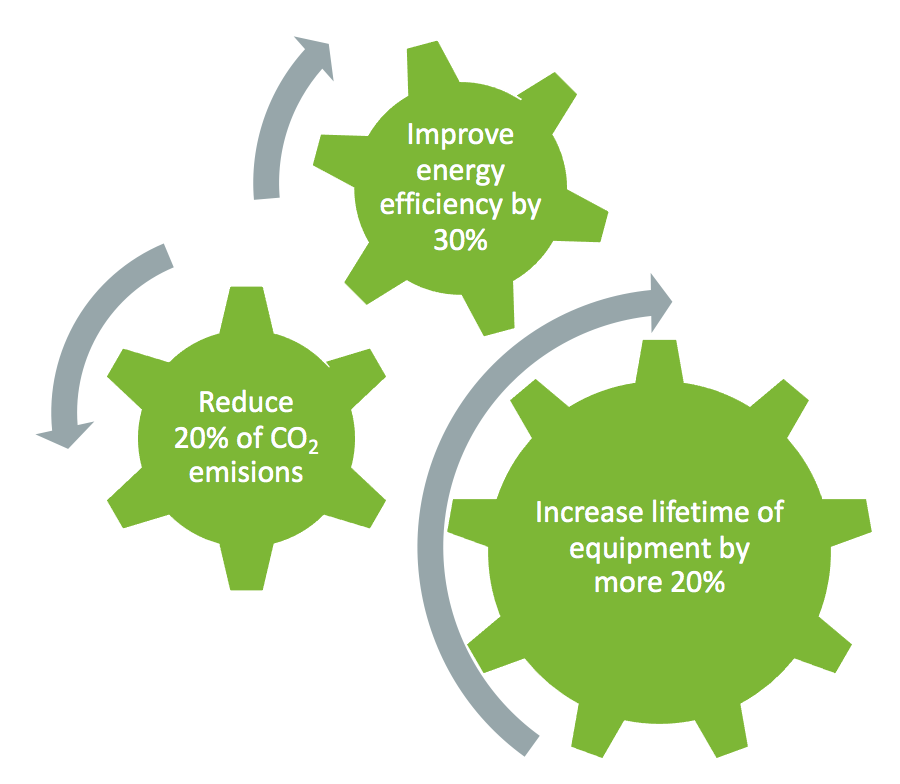 1) Improve energy efficiency by 30%
The aim of ACHIEF is to reduce the overall consumption of process energy by using new high performance materials and protective coatings. They will enable reducing heat losses due to cooling of materials components and equipment fabricated with traditional materials, without compromising the overall performance of the production process and the final quality of the products.
2) Reduction of CO2 emissions by 20%
Emissions reduction will be mainly a consequence of the lower energy consumption at the processes and, to a less extent, gas release in pipelines of Tüpras plant.
Thus, CO2 reductions in ACHIEF will be attained thanks to:
the less fuel consumed to heat the steel slabs at the tunnel furnace in the steel used and the boiler steam generator in the Turkish refinery,
the reduction of heat losses at the casting line and the rolling mill processes at Constellium site.
3) Increase lifetime equipment of more than 20%
High performance materials and coatings solutions developed in ACHIEF will significantly impact the lifetime of equipment and components used in production processes of EIIs. Improved high-temperature strength, wear, creep and corrosion resistance materials developed in ACHIEF will enable extend the service life of industrial components by more than 30% in average compared to currently employed materials solutions.